Leading Provider of Threat Intelligence Solutions Recognized for Disruptive Technology Innovation and Business Impact.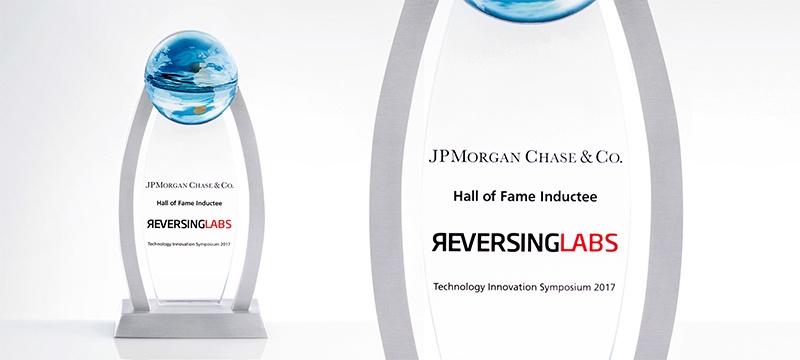 Photo © Gulnara Niaz
Cambridge, MA – October 25, 2017 – ReversingLabs today announced that it was inducted into the JPMorgan Chase Hall of Innovation. ReversingLabs joins a distinguished set of technology companies honored for their achievements in innovation, disruptive technology, and business value to JPMorgan Chase (NYSE: JPM).
ReversingLabs received the award for its TitaniumScale Elastic File Classification Platform and advanced A1000 Malware Analysis and Threat Hunting Solution at the seventh annual J.P. Morgan Technology Innovation Symposium in Menlo Park, California.
"The ReversingLabs platform has provided JPMorgan Chase unprecedented insight into file-born malware with a scalable, real-time solution that significantly enhances the firm's ability to detect and defeat advanced cybersecurity threats," said Patrick Opet, Global Head of Cybersecurity Technology at JPMorgan Chase.
"JPMorgan Chase has one of the most demanding and challenging environments in the world for cyber threat detection, analysis and intelligence," said Mario Vuksan, CEO at ReversingLabs. "We're proud to receive this award that recognizes our solutions as a key component of an effective enterprise-grade cyber defense infrastructure."
About ReversingLabs
ReversingLabs is a leading provider of threat intelligence solutions that dramatically accelerate and broaden an organization's ability to detect new threats, respond to incidents and gain visibility on attacks. Our solutions implement unique, innovative technologies that perform real-time deep inspection and analysis to detect threats within files. Large enterprises, government agencies and security vendors use these solutions to implement enterprise-scale classification, analysis and hunting. For more information refer to www.reversinglabs.com.
About JPMorgan Chase & Co.
JPMorgan Chase & Co. (NYSE: JPM) is a leading global financial services firm with assets of $2.6 trillion and operations worldwide. The firm is a leader in investment banking, financial services for consumers and small businesses, commercial banking, financial transaction processing, and asset management. A component of the Dow Jones Industrial Average, JPMorgan Chase & Co. serves millions of consumers in the United States and many of the world's most prominent corporate, institutional and government clients under its J.P. Morgan and Chase brands. Information about JPMorgan Chase & Co. is available at www.jpmorganchase.com.
Want to find out more about ReversingLabs innovative approach?
Please Register for a 25 Minute On-Demand Webcast to Learn More.