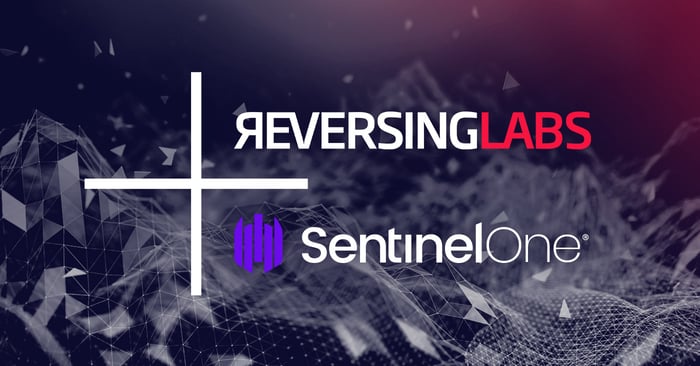 Cambridge, Massachusetts - February 24, 2021 – ReversingLabs, the leading provider of explainable threat intelligence solutions, today announced the availability of its TitaniumCloud and A1000 threat intelligence solutions, part of ReversingLabs Titanium Platform, on SentinelOne's Singularity XDR Marketplace, an open application ecosystem that unifies prevention, detection, and response data and actions across attack surfaces with a few simple clicks.
ReversingLabs Titanium Platform supports analysis of more than 4,000 thousand file types at scale, speeds threat detection in milliseconds through machine learning binary analysis, and continuously monitors an index of more than 12 billion files for threats. Delivering transparency and trust, 'human readable' indicators explain why a classification and threat verdict was determined, speeding analysis and response, while integrating at scale across the enterprise with connectors supporting existing investments like SentinelOne's Singularity XDR platform and many other technologies such as SIEM, SOAR, threat intelligence platform and sandbox investments.

"We are very excited to be a launch partner for SentinelOne's Singularity XDR Marketplace. The combination of ReversingLabs file analysis and global threat intelligence with SentinelOne's comprehensive XDR platform can help security practitioners rapidly identify malware, speed up threat response and deploy advanced SOC capabilities. The ability to perform local file analysis on almost any file format generates highly relevant threat intelligence for triage and enrichment of alerts as well as helping power incident response and threat hunting operations in combination with Singularity XDR platform's visibility and enforcement capabilities. By teaming up with SentinelOne, we can make it easier for our mutual customers to operationalize malware analysis and improve security outcomes," said Craig Whetstone, Vice President of Business Development, ReversingLabs.
The XDR Marketplace represents frictionless integration for mutual customers, seamlessly extending the power of the SentinelOne Singularity XDR platform across the entire IT ecosystem, and empowering security teams to unify best-in-breed technologies -- regardless of vendor -- to autonomously action data and protect against machine-speed threats in real-time.

"Security teams are frustrated that vendors are unable to work together in a single, cohesive environment," said Nicholas Warner, Chief Operating Officer, SentinelOne. "We saw an opportunity to provide an innovative solution that could highlight the true story of what's happening across an enterprise network. SentinelOne's Singularity XDR Marketplace makes automation simple and scalable between vendors so security teams can finally navigate the best course of action to defeat threats with ease, all while increasing the ROI across their security spend."
With the XDR Marketplace, SentinelOne and ReversingLabs customers can:
Seamlessly Integrate Across Security Tools: The Singularity XDR Marketplace integrates security applications and tools across vendors into a single platform with no coding or scripting required -- allowing enterprises to gain visibility over data across historically disparate security solutions. Security teams can obtain insights from shared security events without the need for custom business logic, code, or complex configuration.
Provide Meaningful Context On Disparate, Siloed Data: Singularity XDR Marketplace simplifies access to data across historically disparate security solutions, providing security teams with global visibility to easily monitor and analyze siloed data streams. With Singularity XDR Marketplace, security tools automatically share intelligence and provide a consolidated view of what is happening across the network.
Unify Automation Across Security Tools: Singularity XDR Marketplace unlocks - integration and automation functionality for all enterprises by removing the barriers of writing complex code -- making automation simple and scalable between vendors. With Singularity XDR Marketplace, security teams can drive a unified, orchestrated response among security tools in different domains.
About ReversingLabs
ReversingLabs helps Security Operations Center (SOC) teams identify, detect and respond to the latest attacks, advanced persistent threats and polymorphic malware by providing explainable threat intelligence into destructive files and objects. ReversingLabs technology is used by the world's most advanced security vendors and deployed across all industries searching for a better way to get at the root of the web, mobile, email, cloud, app development and supply chain threat problem, of which files and objects have become major risk contributors.
About SentinelOne
SentinelOne is the only cybersecurity solution encompassing AI-powered prevention, detection, response, and hunting across endpoints, containers, cloud workloads, and IoT devices in a single autonomous platform. With SentinelOne, organizations gain full transparency into everything happening across the network at machine speed – to defeat every attack, at every stage of the threat lifecycle. To learn more, visit www.sentinelone.com or follow us at @SentinelOne, on LinkedIn or Facebook.
Contact:
Jennifer Balinski
Guyer Group for ReversingLabs
jennifer.balinski@guyergroup.com