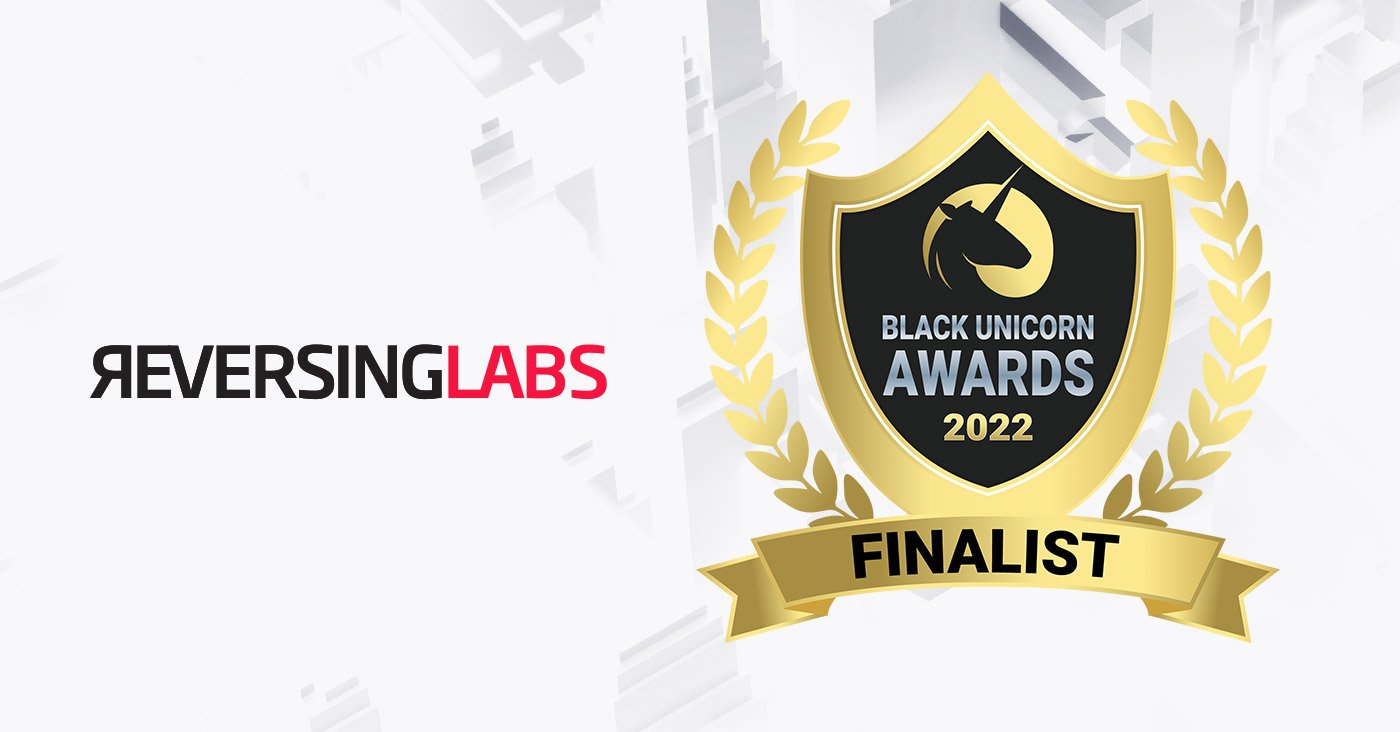 ReversingLabs is a finalist for the title Black Unicorn in the most prestigious awards for cybersecurity companies with its potential market value of $1B.
CAMBRIDGE, MASS., October 27, 2022 - ReversingLabs, the leader in software supply chain security, today announced that it has been named a finalist in the Black Unicorn Awards for 2022.
ReversingLabs competed against many of the industry's leading providers of cybersecurity products and services for this prestigious award. The term "Black Unicorn" signifies a cybersecurity company that has the potential to reach a $1 billion dollar market value as determined by private or public investment, and these awards showcase those companies with this kind of incredible potential in the cybersecurity marketplace.
"We're pleased to name ReversingLabs as a finalist among a small, elite group of cybersecurity industry leaders in our annual Black Unicorn awards," said Judges Robert R. Ackerman Jr. of www.allegiscyber.com, Dino Boukouris of www.momentumcyber.com and Gary Miliefsky of www.cyberdefensemediagroup.com.
"We are excited that ReversingLabs continues to be recognized with Black Unicorn status, along with other top security companies around the world. This validation points to our success in addressing the growing supply chain threat," said Mario Vuksan, CEO of ReversingLabs. "As our recent research has shown, software supply chain attacks are surging, with attacks leveraging popular software repositories npm and PyPi up 289% since 2018. This, coupled with Executive Order 14028, means organizations are being driven to invest in more than your basic SBOM."

"With our ReversingLabs secure.software and SBOM solution, we've upped our commitment with a platform that prevents modern software supply chain attacks from reaching production or customer environments — without impacting developers and their critical deadlines," Vuksan said.
About ReversingLabs
ReversingLabs empowers modern software development and security operations center teams to protect their software releases and organizations from sophisticated software supply chain security attacks, malware, ransomware, and other threats.
The ReversingLabs Titanium Platform analyzes any file, binary, or object, including those that evade traditional security solutions. It's a hybrid-cloud, privacy centric, platform that unifies Dev and SOC teams with transparent and human readable threat analysis, arming developers, DevSecOps, SOC analysts and threat hunters to confidently respond to software tampering and security incidents.
ReversingLabs data is used by more than 65 of the world's most advanced security vendors and their tens of thousands of security professionals. ReversingLabs enterprise customers span all industries, leveraging integrations with popular DevSecOps and SOC platforms that enable teams to access the analysis they need to make quick security verdicts, eliminate threats, and release software with confidence.
About Cyber Defense Awards
This is Cyber Defense Magazine's 10th year of honoring cybersecurity innovators, in this case the Black Unicorn Awards for 2022 on our Cyber Defense Awards platform. In this competition, judges for these prestigious awards includes cybersecurity industry veterans, trailblazers and market makers Gary Miliefsky of CDMG, Robert R. Ackerman Jr. of Allegis Cyber, Dino Boukouris of MomentumCyber and with much appreciation to emeritus judges Robert Herjavec of Herjavec Group, Dr. Peter Stephenson of CDMG and David DeWalt of NightDragon. To see the complete list of finalists and winners for the Black Unicorn Awards for 2022 please visit https://cyberdefenseawards.com/black-unicorn-winners-for-2022/
About Cyber Defense Magazine
Cyber Defense Magazine was founded in 2012 by Gary S. Miliefsky, globally recognized cyber security thought leader, inventor and entrepreneur and continues to be the premier source of IT Security information. We are managed and published by and for ethical, honest, passionate information security professionals. Our mission is to share cutting-edge knowledge, real-world stories and awards on the best ideas, products and services in the information technology industry. We deliver electronic magazines every month online for free, and limited special editions exclusively for the RSA, BlackHat and Cyber Defense Conferences. Learn more about us at http://www.cyberdefensemagazine.com. Cyber Defense Magazine is a proud member of the Cyber Defense Media Group.
###
Media Contact:
Doug Fraim, Guyer Group
doug@guyergroup.com