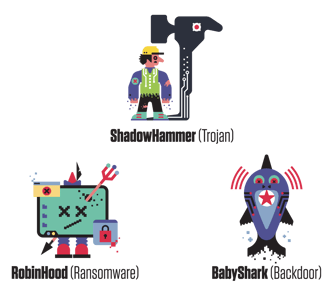 Accurate Malware Family Modeling & Classification
Challenge: Traditional machine learning models are applied to a very large data set of millions of files that are then sorted into buckets with labels of good or bad, while being in the form of 1's and 0's, and not human readable. This approach results in vague often meaningless classifications such as Finding: Unknown, Threat Score: 68/100, or Malware: Virus, with the supporting information and features lacking human interpretability. It's often very difficult to overcome this challenge since it requires skilled threat researchers that understand threats at a deep level and with the time and technology to properly label.
Solution: ReversingLabs solves this explainability problem through a much more effective way of labeling, which includes smaller cluster threat types such as Ransomware, Keyloggers, etc. In addition the feature set used to apply models is not 1's and 0's, but instead human readable indicators. These human readable indicators are textual descriptions of intent that allows a security analyst to understand why a verdict was determined and take quick action. And by leveraging the world's largest private database of goodware/malware, ReversingLabs possesses the data set to effectively train these models to accurately detect day zero threats on a global level.