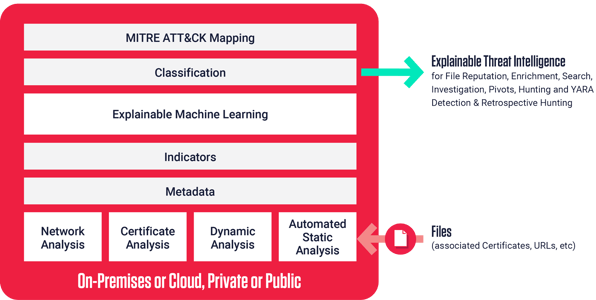 Analyze Files From a Single Platform
Challenge: Threat Analysis tools vary in capabilities and maturity, and researchers routinely rely on a fragmented set of open source and commercial tools to fully process their samples to understand malware behaviors, determine a classification, and to investigate various indicators of compromise. The resulting inefficiencies in manual processes ultimately results in many files going uninvestigated, which leaves the organization at risk.

Solution: With ReversingLabs, analysts and threat hunters can work from a unified threat analysis platform, comprised of capabilities including automated static analysis and dynamic analysis (i.e. sandboxing technologies), as well as other key indicator sources such as network/URL behaviors and certificate trust chains. By consolidating these capabilities into a single automated analysis solution with a common console for investigating samples, managing workflows, and hunting threats, malware analysis teams have seen 3x improvement in productivity.