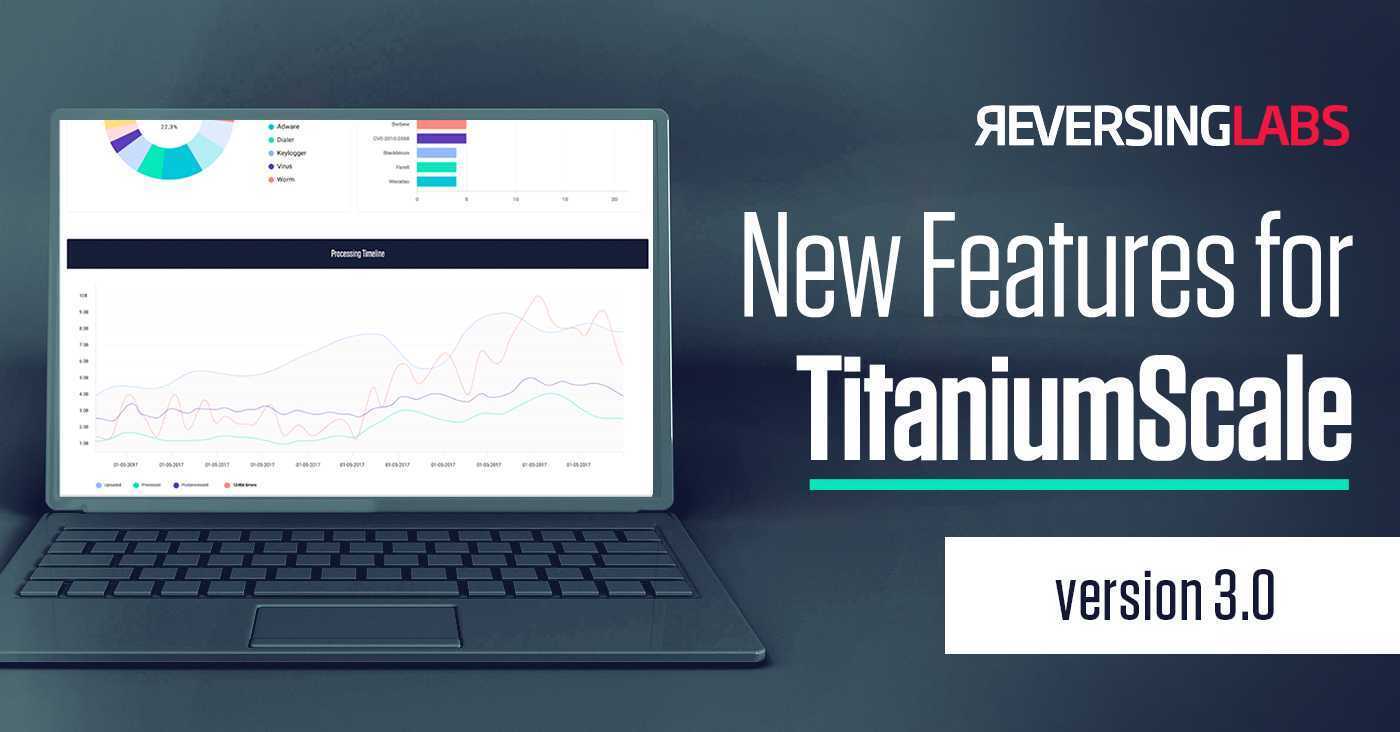 At ReversingLabs, we strive to empower our engineers to improve our products and to provide the best user experience with our solutions. We value feedback from our customers and use that to help shape the evolution of our products. That is why we're proud to release the newest version of TitaniumScale, version 3.0.
This version of TitaniumScale includes a number of new and improved features that will aid enterprises as they defend against today's most pressing cyber threats. They include:
Improved static analysis
Improved integrations and automation
Smoother workflows for a better user experience
Ease of administration
Here are the essential updates to TitaniumScale 3.0 that will aid enterprise security operations centers (SOCs) as they defend their organizations against today's most pressing cyber threats.
About TitaniumScale
TitaniumScale helps enterprises assess millions of files collected from web traffic, email, file transfers, endpoints or storage. The solution uses proprietary ReversingLabs File Decomposition technology to extract detailed metadata, add global reputation context and classify threats. It automatically acquires files by integrating with email gateways, intrusion detection systems, firewalls and other devices. Results from TitaniumScale can be fed into SIEM, SOAR, and analytics platforms to enrich data and provide visibility for advanced threat hunting and remediation.
Improved Static Analysis
The overall quality of TitaniumScale's static analysis has gone up as a result of improved certificate reputation baselines. This will ease the work of enterprise security operations centers (SOCs) by adding time limits to recently leaked certificates, plus updated publisher trust ratings within the ReversingLabs data corpus.
Improved Integrations and Automation
Several updates to TitaniumScale have improved the integrations and automation of the product overall. A key update contributing to this is TitaniumScale offering users additional file source options with the ability to scan files from an organization's OneDrive cloud storage, expanding the product's automation capabilities. Considering that over a million organizations worldwide rely on OneDrive to share files internally and store them online, we wanted to include TiScale security for these users.
Regarding authentication, updates to TitaniumScale now allow users to continue analyzing Office365 and Outlook emails using the IMAP Connector, which supports compliance use cases.
Smoother Workflows for a Better User Experience
Not only do we want our products to offer the best security solutions for enterprises, but we also want these same products to create seamless workflows among security teams, creating a better experience for the user overall. Several updates were made to TitaniumScale to follow through with this goal.
Better file source identification is one of the key updates, allowing users to be able to distinguish the original source of each file. This enables efficient monitoring, response and troubleshooting of processing errors for SOC teams.
Additionally, worker identification has also proven to be a key new feature of TitaniumScale, allowing users to determine which worker within an enterprise's team processed a particular file, enabling efficient comparison of processing metrics and identification misconfigurations.
Lastly, password list central configuration is an essential update to TitaniumScale, which enables a SOC to manage passwords for encrypted archives processed by TitaniumCore. This update improves detection, compliance and administrative workflows overall for SOCs.
Ease of Administration
It's essential that our products provide easy maintenance and operations for SOC teams, allowing them to focus more closely on the cyber threats to their enterprises. Updates to TitaniumScale have been improved to provide users with ease of administration. These include log improvements and better supportability for SOCs, increased default ping timeout for appliance checks, and central logging redundancy.
An All-Encompassing Solution for SOC Teams
Overall, this release of TitaniumScale version 3.0 includes improved overall quality and better security outcomes for users with a number of prioritized defect resolutions.
Constantly improving the solutions we offer continues to make ReversingLabs a leader in crafting premier, modern products that respond to today's most pressing cyber threats.
Want to know more about TitaniumScale? Learn more about the Titanium Platform, or schedule a demo.