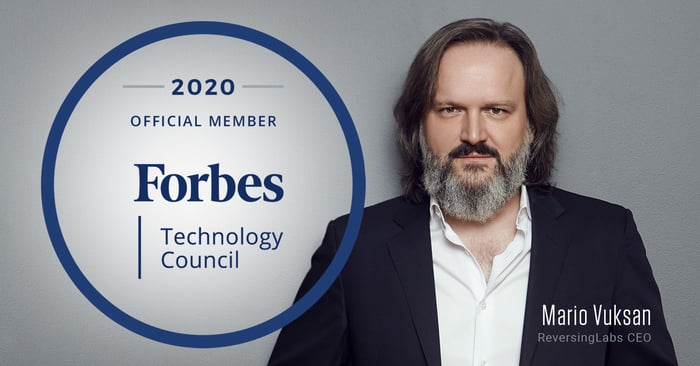 ReversingLabs CEO Mario Vuksan has been accepted into Forbes Technology Council, an invitation-only community for world-class technology executives. The criteria for acceptance includes a track record of successfully impacting business growth, as well as personal and professional achievements and honors.
Why is this good for Forbes
Mario has a profound desire to understand how technology works and evolves, and to place security at the center of all activities connected to the well-being and progressive development of our society. He focuses on "visualizing impossible problems" and has a unique approach to cybersecurity, influenced by his diverse background in Mathematics, Computer Science, and Art History.

With ReversingLabs in its tenth year, Mario and cofounder Tomislav Peričin continue to innovate while urging the cybersecurity industry to put the power back into the hands of IT analysts and security professionals. He and the team at ReversingLabs are committed to providing security solutions that protect against increasingly complex threats, but also provide insights in a transparent, explainable, easy to digest and understandable way that helps professionals make informed decisions, improve their skills and better protect their business from damage and loss.

Over the last twenty years Mario has held senior technical positions at Bit9 (now Carbon-Black), Microsoft, Groove Networks, and PictureTel (now Polycom). He has authored numerous research studies, spoken at industry events such as RSA, Black Hat, DEFCon, CEIC, and FS-ISAC among others, and shared his perspective and experience in many industry publications. He also previously coordinated the advisory board of AMTSO (Anti-Malware Testing Standards Organizations), worked on the IEEE Malware Working Group, and contributed to the NIST Cybersecurity Framework.
What you can expect from Mario
As the Forbes Technology Council brings together proven leaders from every industry, and creates a curated, social capital-driven network that helps every member grow professionally, we can expect Mario to make an even greater impact on the business world and security industry. Beyond working with the Forbes professional editorial team and sharing his expert insights in original business articles on Forbes.com, Mario will enthusiastically contribute to published Q&A panels alongside other experts to provide strategic perspectives on the digital transformation and risks shaping our contemporary society.

Hear from Mario Vuksan and Tomislav Pericin on ReversingLabs.