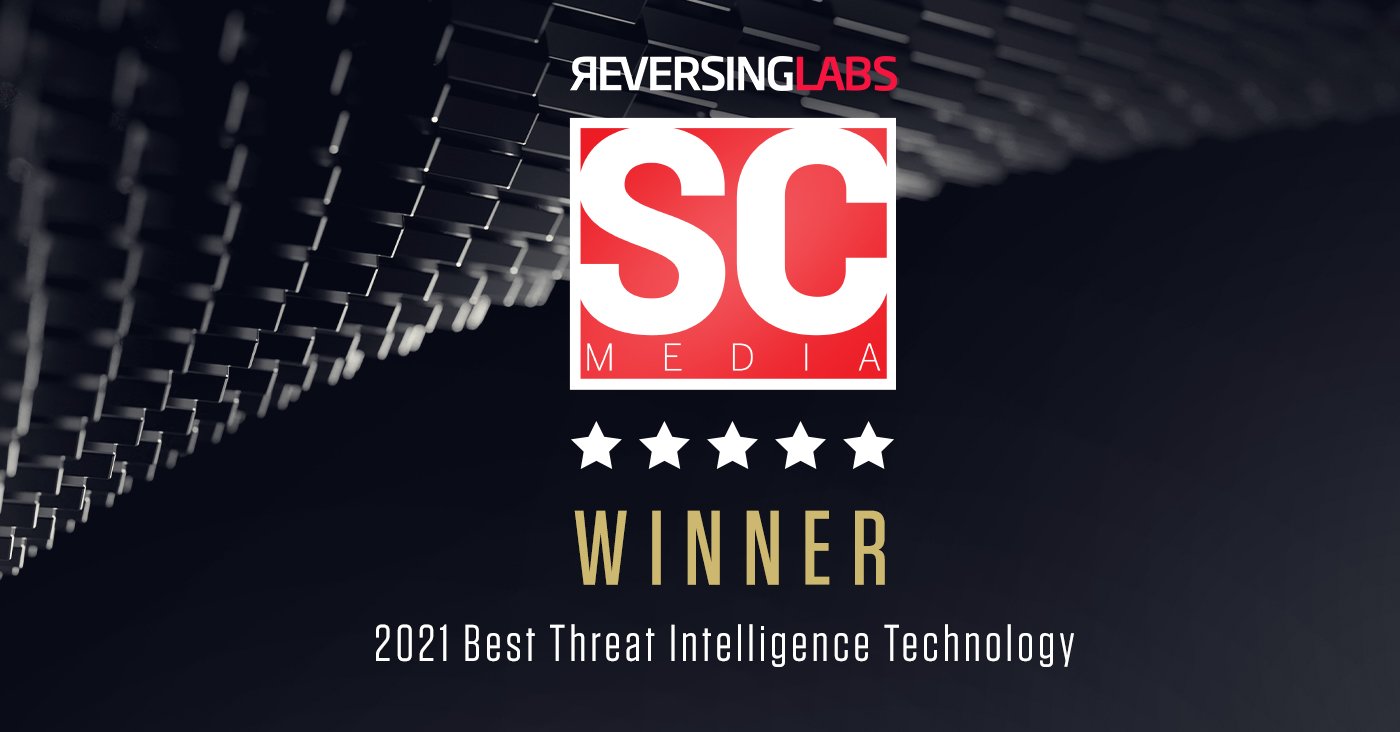 Thank you to the SC Media distinguished panel of judges, editorial team and the CyberRisk Alliance for your recognition of ReversingLabs as the Best Threat Intelligence Winner for the 2021 SC Awards.
For 24 years, SC Media has recognized the people, the organizations and the products that are forging the future of cybersecurity and advancing the cause of safe and secure commerce and communications. And from what we understand, this year SC Media received a record number of entries, which makes this even more special.
Our market leading Threat Intelligence Titanium Platform was conceived to detect and analyze complex threats built to evade traditional security solutions. Its breadth of file coverage, speed of analysis, and explainable context, has become critical threat infrastructure for organizations striving to deliver a threat intel and malware analysis service across the entire enterprise from developers to SOC analysts. This award is a testament to our global employees, partners and customers that helped to fulfill this vision.
When evaluating Threat Intelligence vendors for these awards, jurors looked deeply at the cybersecurity solutions, problems, market penetration, functionality, manageability, ease of use, scalability, customer service/support, and more.
As the winner of the "Best Threat Intelligence Technology" by SC Media, this assures organizations that ReversingLabs solutions will help cybersecurity teams research and analyze cybercrime as well as other threat trends and technical developments being made by those engaging in cyber-criminal activity against both private and public entities. ReversingLabs helps to facilitate the understanding and contextual relevance of various types of data, often an overwhelming amount, collected from internal network devices, as well as from external sources (such as open-source tools, social media platforms, the dark web, and more). Armed with this more digestible analysis on risks and cyberthreats, cybersecurity teams will be able to enhance their tactical plans preparing for and reacting to an infrastructure intrusion prior to, during, and after an attack, ultimately improving their overall security posture so their long-term security strategy is more predictive rather than simply reactive.
If you'd like to learn more about ReversingLabs and its Threat Intelligence Titanium Platform please request a meeting with one of our experts here today.