Trusted Authority in Software and File Security Wins 2023 InfoSec Innovator Hot Company Award and Named Finalist for Black Unicorn and CISO Choice Awards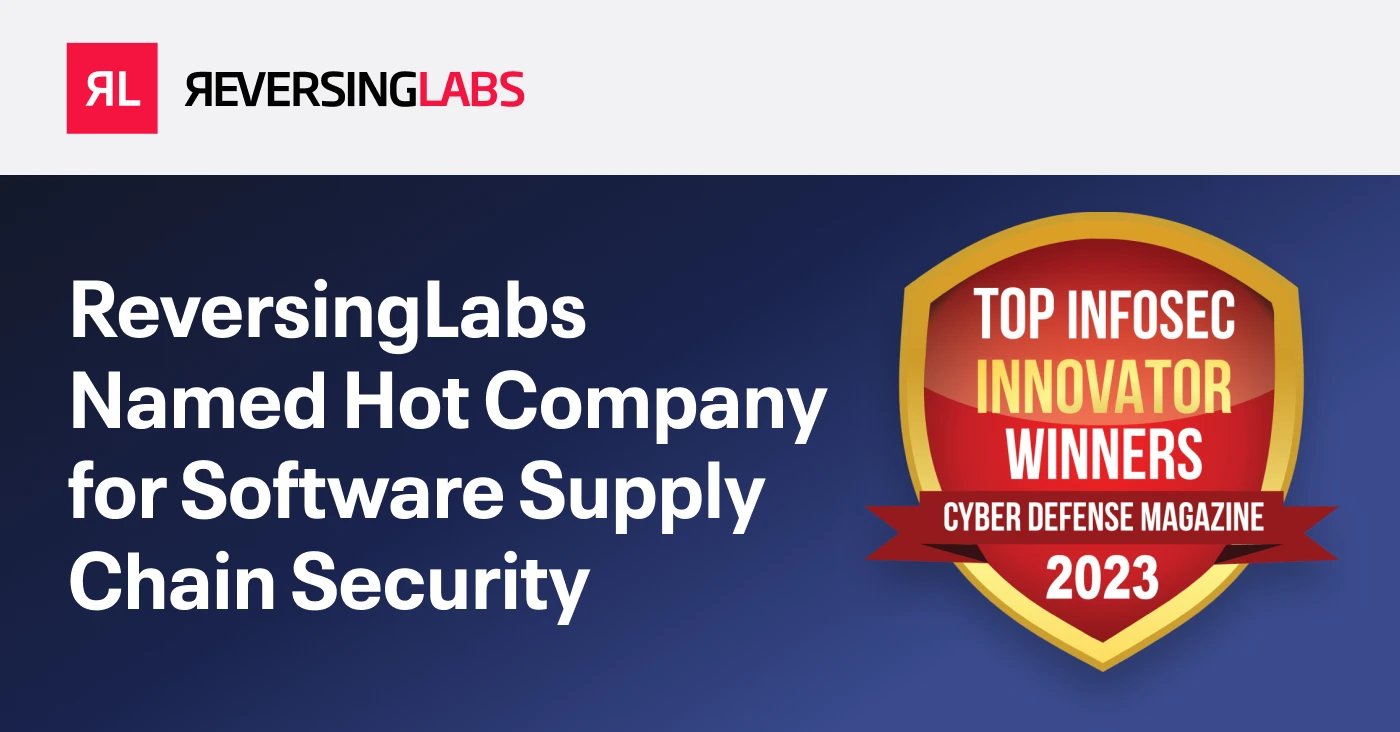 Cambridge, MA—November 15, 2023 –ReversingLabs, the trusted authority in software and file security, today announced it has received a Top InfoSec Innovators Award 2023 for "Hot Company: Software Supply Chain Security" by Cyber Defense Magazine (CDM), the industry's leading electronic information security magazine.

ReversingLabs was also named a 2023 Black Unicorn Awards finalist by InfoSec Innovator Awards judges. Black Unicorn award status is granted by Cyber Defense Magazine to cybersecurity companies with the potential to reach a 1 billion dollar market value as determined by private or public investment.

Achieving additional recognition, ReversingLabs Software Supply Chain Security solution was named a finalist for Best Application Security Solution for the 2023 CISO Choice Awards, which recognize innovative technologies that help CISOs secure their organizations. All finalists are chosen by a distinguished board of judges, composed of leading global CISOs.

Recent reports show a 1500% increase in software supply chain attacks. In its 2023 survey, ReversingLabs found that 90% of technology professionals detected significant risks in their software supply chain in the last year, with nearly 75% stating that their current application security solutions (SCA, SAST, & DAST) aren't providing necessary protections. Built on the industry's largest threat file repository with 35 billion files, ReversingLabs static binary analysis fills this gap by providing a final build exam. It is the most comprehensive and fastest software supply chain security and malware analysis platform capable of handling large and complex software packages.
"We are honored to receive each of these distinctions, which bring additional validation to our unique approach focused on eliminating threats targeting the software supply chain," said Mario Vuksan, CEO and Co-founder of ReversingLabs. "Right now, organizations face a hole in software supply chains that cannot be addressed using traditional application security solutions. With our unique ability to conduct the final build exam for any full software package, we make it easy for software builders and buyers to answer the fundamental question--are there any exploits inside my software? With this insight, they can then quickly detect and address supply chain threats, including malware, tampering, and exploits, before software is released or deployed across the enterprise."

The complete list of the Top InfoSec Innovators for 2023 can be found here. A list of Black Unicorn finalists and winners are featured here.
About ReversingLabs
ReversingLabs is the trusted authority in software and file security. We provide the modern cybersecurity platform to verify and deliver safe binaries. Trusted by the Fortune 500 and leading cybersecurity vendors, the ReversingLabs Titanium Platform® powers the software supply chain and file security insights, tracking over 35 billion files daily with the ability to deconstruct full software binaries in seconds to minutes. Only ReversingLabs provides that final exam to determine whether a single file or full software binary presents a risk to your organization and your customers.


Click here to learn more about ReversingLabs Software Supply Chain Security solution.

Media Contact:
Doug Fraim, Guyer Group
doug@guyergroup.com