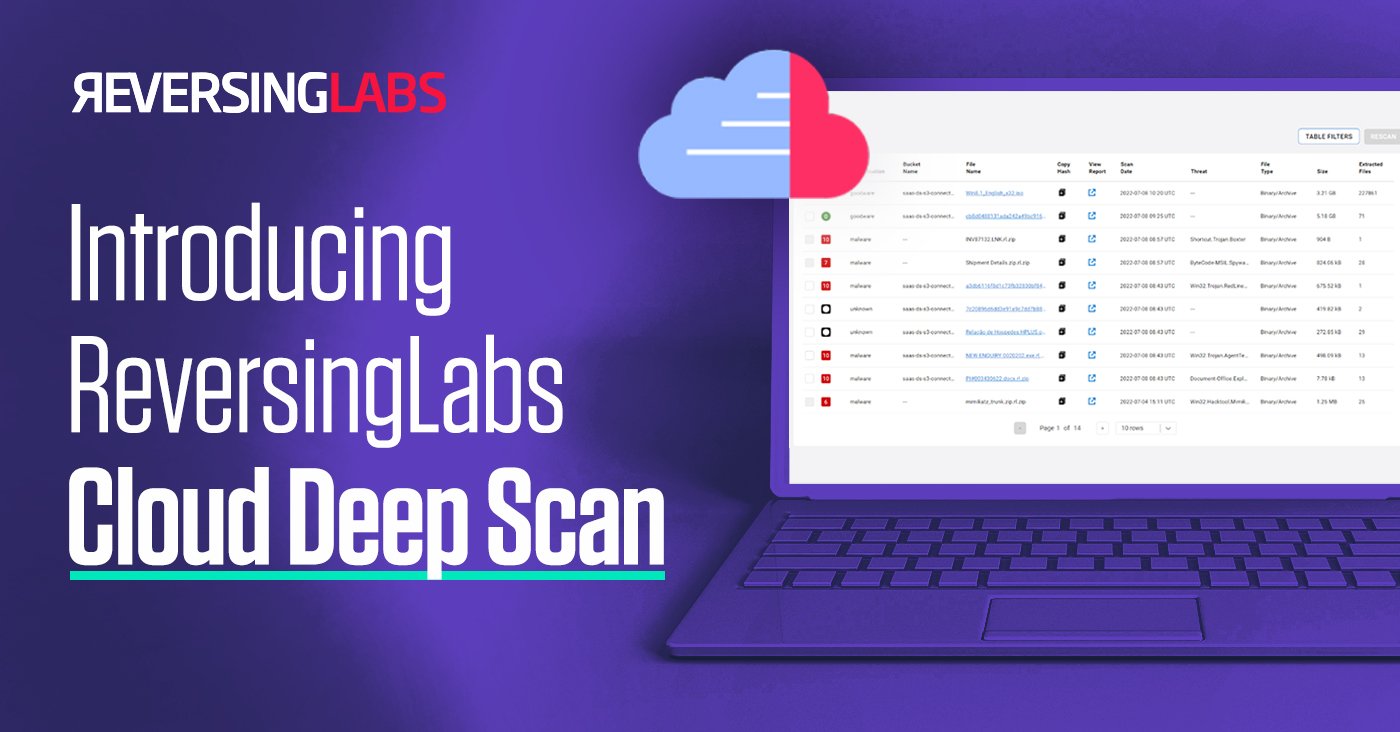 ReversingLabs Cloud Deep Scan can help organizations quickly identify threats in their AWS file shares and storage. Here are the key features.
With a large number of organizations moving to the cloud, there has been significant growth in the use of cloud B2B file shares, enabling file-based workflows between business partners and internal teams. The use of cloud storage and hosting platforms has also grown, including Amazon Web Services (AWS), which experienced a 33% growth between the first quarter of 2021 and the same period in 2022. While this has improved collaboration and business productivity, it has also increased cyber risks. Never ones to miss an opportunity, cybercriminals are taking advantage of the constantly growing and shifting cloud threat landscape.
Today, the cloud has become a new arena for cybercrime, in which threat actors are exploiting these services to spread malware and steal sensitive data from organizations. This past June, it was reported that both Pegasus Airlines, a Turkish flight operator, and Capital One suffered massive data breaches as a result of cybercriminal attacks on AWS Simple Storage Service (S3). Growing threats like that mean organizations that rely on AWS must look for secure solutions to defend against cybercriminals.
Unfortunately, cloud antivirus solutions and endpoint detection and response (EDR) do not have enough depth and breadth to find advanced threats in the multi-layered applications and multi-gigabyte files that power cloud applications and services. Organizations that rely only on these legacy security solutions alone will not be fully protected from cloud-based threats, and could suffer major data breaches as a result.
This is why ReversingLabs has taken the initiative to launch our newest solution: ReversingLabs Cloud Deep Scan. This service will allow organizations to properly defend against the growing attack surface found in AWS that other solutions miss.
Here are the key elements of ReversingLabs Cloud Deep Scan.
ReversingLabs Cloud Deep Scan: The Basics
In a nutshell, ReversingLabs Cloud Deep Scan provides visibility into organizations' AWS S3 buckets. This enables secure sharing between an organization's customers, partners and internal teams. ReversingLabs Cloud Deep Scan is a cloud-native service that finds malware in files that are up to 10GB in size and that are shared in AWS S3 buckets.
This service gives IT teams fast, synthesized file classification of both malware and goodware files. IT teams will also benefit from the solution's fast threat intelligence, enabling quick prioritization and investigation of the most serious strains that pop up.
What Other Solutions Miss
It is clear that the need for a solution such as ReversingLabs Cloud Deep Scan is high, given that other solutions do not meet the mark in fully securing an organization's AWS S3.
Most other solutions cannot support the volume and speed at which files need to be scanned. Given the high storage amount in AWS S3, organizations will not be able to properly classify all files with other solutions. This will hurt an organization since they will not be able to determine which files are good and which are malicious.
Additionally, many organizations have complex, multi-layered applications, which host a string of multiple parent-child file relationships, continuously interconnected with one another. This great complexity found in multi-layered applications can potentially lead to threats. Most solutions today cannot properly decompose a layered application to properly inspect it for cyber threats, leaving organizations with these kinds of applications vulnerable.
Equally important, most solutions cannot process a high number of file formats. This means that IT teams are left in the dark when it comes to file formats that a solution cannot process, leaving threats undetected.
Lastly, most other solutions that aim to secure cloud storage do not offer comprehensive and accurate threat classifications resulting in a high number of false positives (too many false alerts) and false negatives (threats slip by undetected). This creates unnecessary work for IT teams, and takes away from the effort to handle real threats.
Features You Will Want
ReversingLabs Cloud Deep Scan fills the needs of IT security teams, and exceeds expectations of what a security solution for AWS should provide.
Cloud Deep Scan features include:
Analyzes and classifies files up to 10 GB in size.
Provides high-confidence, quality and actionable classification of file types based on unique binary analysis and ReversingLabs malware/goodware repository
Automatically identifies 4,800 file formats.
With the help of ReversingLabs Cloud Deep Scan, organizations can feel more secure in their reliance on AWS S3. IT security teams will now be able to detect and mitigate the threats that could cause major problems.
Keep Learning About ReversingLabs Cloud Deep Scan