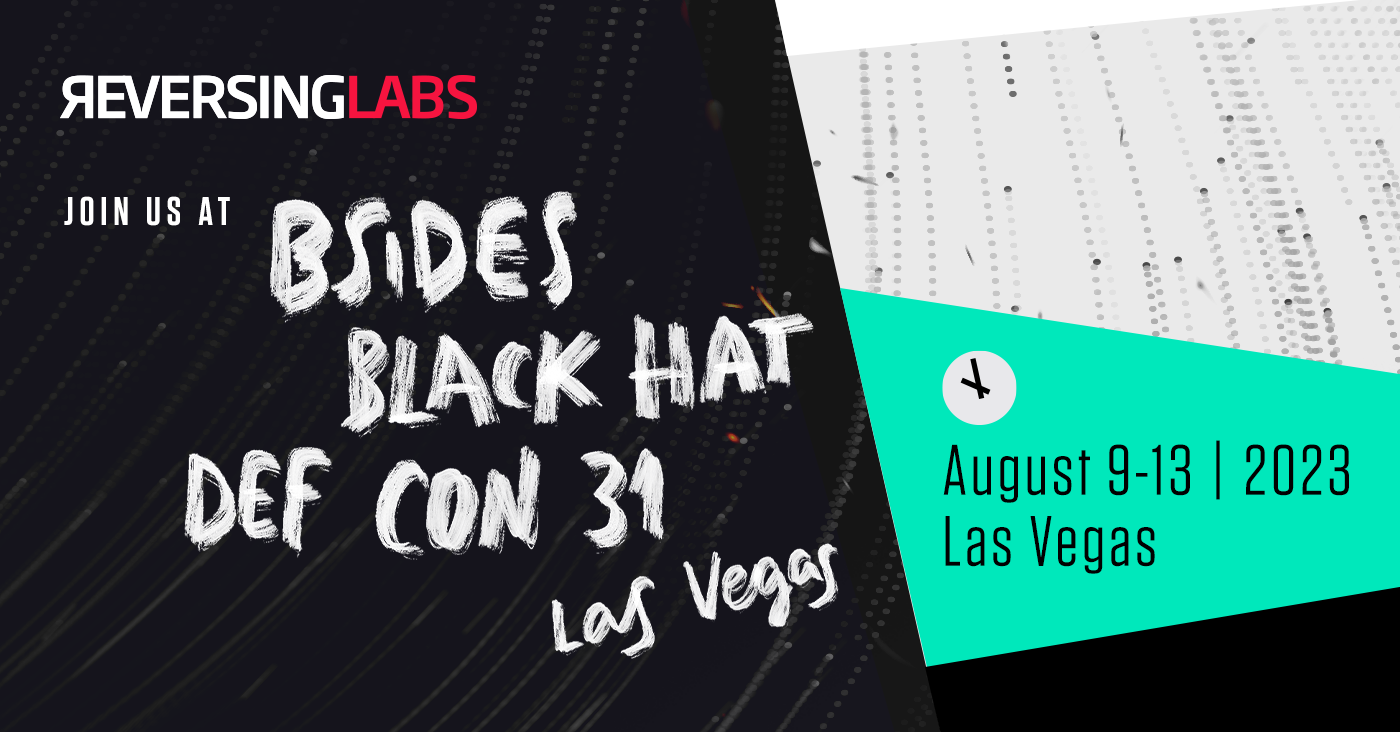 ReversingLabs is going to summer camp next week. This isn't the sleep-over camp of your youth, with archery and s'mores. The camp our team is gearing up for is Hacker Summer Camp, comprised of BSides Las Vegas, Black Hat USA, and DEF CON, all happening between August 5 and 13.
Every summer, professionals and researchers from cybersecurity and application security companies gather for a week in Las Vegas, Nevada. Attendees see the latest research, check out the industry's newest technologies, and connect with other professionals — just as they have been doing every summer for almost three decades.
ReversingLabs is excited to take part — and this year we're going big. Here's a rundown of everything you can expect from ReversingLabs at Hacker Summer Camp.
[ See what's in store from ReversingLabs in our Webinar: ReversingLabs @ Hacker Summer Camp 2023 | Plus: Bookmark our Hacker Summer Camp event page ]
Come see ReversingLabs at Booth #3034
Black Hat USA is one of the biggest cybersecurity conferences in the world, and it can be easy to feel overwhelmed on that showroom floor. If you need a place to relax in between meetings or are looking to get a taste of what kinds of technologies are being put on display at this year's conference, head to ReversingLabs' Booth: #3034.
You will be greeted by our team of security pros at our two-level booth, complete with the latest swag as well as refreshments such as coffee and Jones Soda. You can also learn about ReversingLabs and its industry-leading security solutions and tooling.
Our team will also be giving demonstrations on ReversingLabs' technologies, centered on threat hunting capabilities and software supply chain security. In-depth presentations will include topics such as the various threats to software supply chains, and how threat actors are advancing their use of malware.
Meet top authors
ReversingLabs is partnering with three top security authors — Chris Hughes, Derek Fisher, and ethical hacker FC (Freakyclown) — and they will be talking at Booth #3034 about their books and handing out free, signed copies to those who register.
Their books and times to meet for signings include:
"Software Transparency: Supply Chain Security in an Era of a Software-Driven Society," by Chris Hughes
Wednesday, August 9, 12:30-1:30 pm
Hughes, co-founder and CISO of Aquia, will give a rundown on his new book about the importance of software transparency. In the book, Hughes draws on real-world examples of software supply chain attacks to explain how organizations can best defend themselves against the various kinds of threats found in today's supply chains.
"Application Security Program Handbook: A Guide for Software Engineers and Team Leaders," by Derek Fisher
Wednesday, August 9, 3-4 pm
Application security educator Fisher will give an overview of his hit book on how practitioners and security leaders can go about app sec the right way. Fisher, the head of product security at Envestnet, has been a longtime leader, practitioner, and academic in app sec. ReversingLabs field CISO Matt Rose, who wrote the foreword for Fisher's book, will join Fisher.
"How I Rob Banks: And Other Such Places," by FC (Freakyclown)
Thursday, August 10, 1-2 pm
FC, a well-known speaker, will talk about his background as an ethical hacker. He is also the co-CEO, co-founder, and head of Ethical Hacking at Cygenta, and has worked as both a cybersecurity leader and penetration tester throughout his career. In his book, FC discusses how he tested the limits of physical bank and government security to showcase how threat actors are able to infiltrate these sensitive systems.
[ Reserve your spot: Choose one of three sessions above now ]
ReversingLabs speakers lead the conversation
ReversingLabs is at the forefront of innovation and thought leadership in software supply chain security and threat intelligence. That's why our leaders and experts have been chosen to present at all three conferences happening during Hacker Summer Camp. Among the talks and topics are these:
BSides Las Vegas: "Farm to Fork(ed): The Forces Fueling Food Chain Risk"
I Am The Cavalry track, Tuesday, August 8, 3-4 pm
ReversingLabs' content lead, Paul Roberts, will take part in a session with independent security researcher Sick Codes on the broader risks found in the production and distribution of food — from farm to factory and factory to fork — and how the physical cybersecurity of these supply chains can be better protected.
Black Hat USA: "Entrepreneur's Dilemma: Managing Growth and Dedication to Product Quality"
Mandalay Bay, Oceanside D, Level 2, Thursday, August 10, 10:20-11 am
ReversingLabs CEO and co-founder Mario Vuksan will kick off the Entrepreneur track on the second day of Black Hat. Vuksan, a longtime leader and practitioner in the cybersecurity industry, will be reflecting on his experiences in this presentation that is centered on how leaders can manage beneficial growth for their businesses. He'll emphasize the importance of maintaining product quality, properly equipping your organization, and connecting with clients — all while growing the business of a company.
DEF CON: "The Ghost in the (Voting) Machine: Failures in Election Software Supply Chain Security"
Time and location to be announced. Follow us on LinkedIn or Twitter to get notified.
One of ReversingLabs' star experts in the intersection of threat hunting and software supply chain security is director of threat intelligence advocacy Ashlee Benge. She will discuss a matter of deep importance: election security. Her main point will surprise attendees: The elephant in the room is not the obvious threat to election security.
See you at Hacker Summer Camp!
The ReversingLabs team is looking forward to joining the security community in Las Vegas next week. Check out our activities at Black Hat Booth #3034, including the "meet the author" series, and catch our experts taking the stage at all three conferences. We'll be engaging in the full Hacker Summer Camp experience.
For more information — such as a free software analysis to ensure trust — and how to schedule a time to meet with our team, head to our Hacker Summer Camp page.