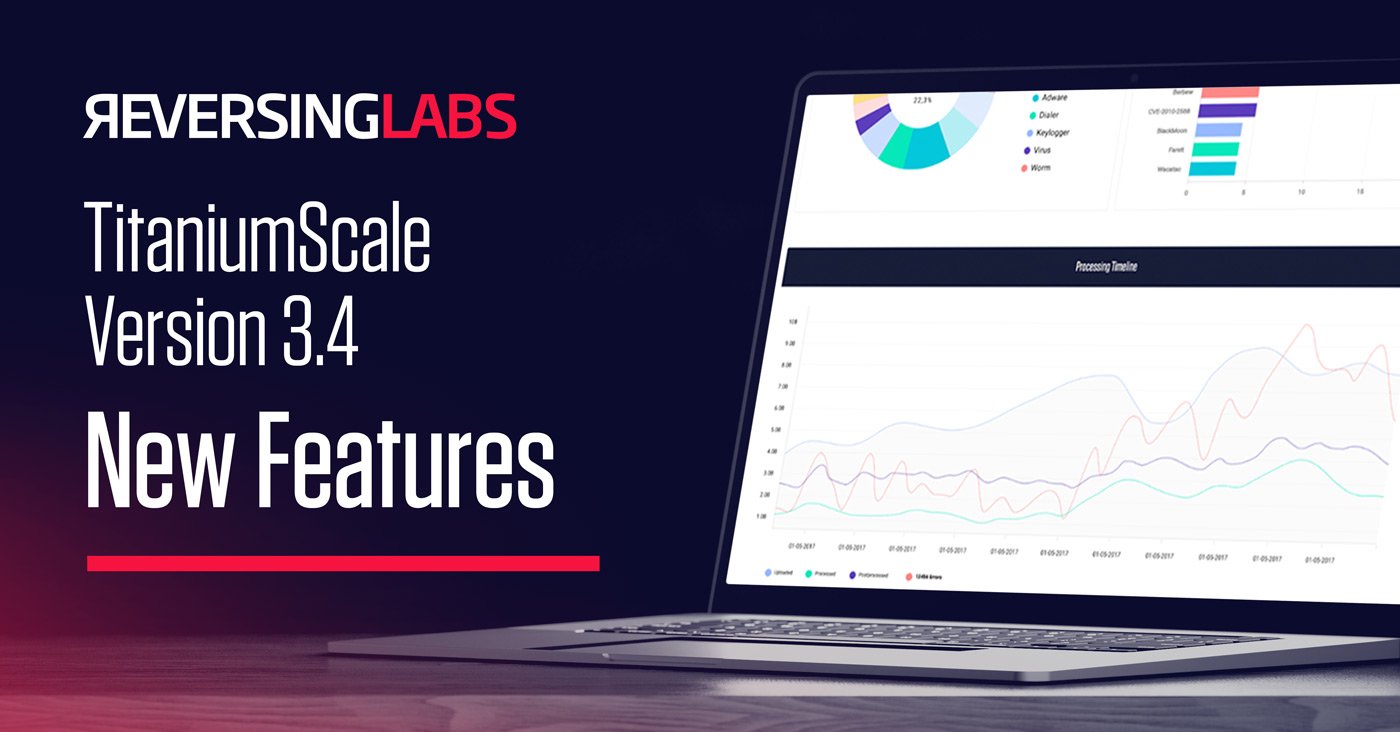 ReversingLabs is committed to consistently enhancing clients' security solutions, placing high value on customer feedback and driving product evolution. We are pleased to announce the launch of TitaniumScale Version 3.4, representing another significant milestone in our ongoing commitment to delivering high-quality solutions. Alongside delivering on key customer requests, the TIS V3.4 release delivers on the themes of Usability and Workflows enhancements and Automations and Integrations.
New and improved features in TitaniumScale Version 3.4 include:
• C1000 APIs
• New Report Types
• C1000 User Experience and Interface Improvements

Here are the essential updates to TitatiumScale 3.4 that will aid enterprise security operations centers (SOCs) as they defend their organizations against today's most pressing cyber threats.
Updated Integrations and Automation
As part of this latest release, we have updated our C1000 Central Manager to deliver the critical management information through APIs, supporting automated deployment, configuration and update of multiple appliances, ensuring consistency and saving time. This enables seamless migration of data and functionalities for enterprise repaving needs, with minimal disruption to business operations.

• C1000 APIs are now available as a centralized interface for automated deployment, configuration and update of all appliances managed by C1000, enabling additional automation use cases and workflow efficiency. The following functionalities have been exposed as APIs are documented within the C1000 Help section:
• Appliance Management, allowing an automated process for creating, authorizing, removing and listing appliances
• Appliance Updates, providing the ability to automate upgrades of C1000 and connected appliances to newer versions
• Administration of the C1000 appliance, which allows managing authentication, users, tokens, backups and other miscellaneous C1000 settings via APIs
• Central Configuration, enabling automated configuration of connected appliances and configuration groups.
Expanded Capabilities and Workflow Improvements
With this release, there have been several additions to our report types, delivering new, more performant report types, enabling higher post-processing speed and smaller report sizes. Additionally, report metadata may now be dynamically configured when submitting files for analysis using APIs, providing more granular control over file analysis pipeline.

• New report types have been introduced to optimize performance, resulting in reduced report sizes and faster post-processing speed. Users may now use Small, Medium and Large report types as substitutes for legacy summary and full reports, and several report views. New report types can be set by:
• Defining the default report type in the C1000 web interface per configuration group
• Placing custom definitions directly on TitaniumScale Worker
• Dynamically configuring report fields when submitting files for analysis using APIs
• Defining report type per callback server when submitting files for analysis using APIs and the user_data parameter
Other notable features and improvements in the latest version of TitanumScale include:

• Custom report views available within TitaniumScale have been expanded with a number of new views to enhance administrative workflows: Mobile_Detections, Classification_Top_Container_Only, Classification_Sans_Known_Unknown_Children and Short_Sig.
• Content improvements applied to the C1000 web interface by updating labels and helper text, and applying a unified style guide throughout the appliance, ensuring enhanced usability and workflow efficiency.
• C1000 browser tab has been updated with ReversingLabs iconography, appliance name and descriptive page name, ensuring better navigation and accessibility.
About ReversingLabs TitaniumScale
TitaniumScale enables organizations to privately analyze large volumes of files in real time and forward analysis data to advanced analytics platforms in order to support threat correlation, hunting, and response. The solution uses proprietary ReversingLabs File Decomposition technology to extract detailed metadata, add global reputation context and classify threats. It automatically acquires files by integrating with email gateways, intrusion detection systems, firewalls and other devices. Results from TitaniumScale can be fed into SIEM, SOAR, and analytics platforms to enrich data and provide visibility for advanced threat hunting and remediation.
About ReversingLabs
At ReversingLabs, we are providing the world's largest threat intelligence repository to protect software development and power advanced security solutions, keeping the most advanced cybersecurity organizations and Fortune 500 enterprises informed and ahead of the threats. Our software supply chain security and threat intelligence solutions have become essential to advancing enterprise cybersecurity maturity globally.