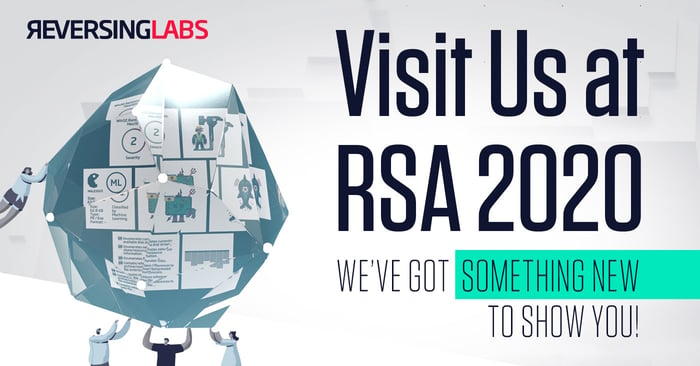 RSA is a great time to connect as security practitioners, vendors, partners, and solution providers. ReversingLabs has had a tremendous year, and we've got 5 great reasons you should stop by and see us in Moscone's South Expo Hall Booth #3311.

1. Let's get our big announcement out first- we're introducing ReversingLabs Explainable Machine Learning [#TitaniumPlatform]. The innovation continues as we take steps to fundamentally change how threat intelligence is delivered.

2. Participate in our Threat Intelligence Quiz [#ReversingQUIZ] and drop by our booth to pick up your gift by sharing your results!

3. Join our Social calendar for some fun time:
Tanium Happy Hour
Tuesday, February 25th | 6:00PM - 10:00PM | Hotel Zetta
Unwind after a busy day of sessions and networking at Tanium's Happy Hour event proudly co-sponsored by ReversingLabs.
Emerging Innovation Technology Social Party
Tuesday, February 25th | 6:30PM - 10:00 PM | The Children's Creativity Museum
Join us for this executive invite-only event which will be the talk of the town, with light appetizers and drinks. Co-sponsored with our partner SparkCognition.
RSA Beer Crawl
Wednesday, February 26th | 4:30PM - 6:00PM | Booth #S3311
Stop by the ReversingLabs booth #3311 during the Wednesday evening reception for a cold one after a long day!
4. Find us at other Industry and Partner events:
West Coast InfoSec & Broader Technology Growth Conference
Monday, February 24 & Tuesday, February 25 | The Hilton Union Square Hotel
We are kicking the week off by joining AGC's 16th annual tech event with some of the fastest growing private companies spanning all major sectors of security.
Open Cybersecurity Alliance (OCA)

Luncheon
Wednesday, February 26 | 12:00PM - 1:30PM | InterContinental San Francisco Hotel
As an initial sponsor member of the OCA [#OCA], ReversingLabs invites you to an exclusive "Get to Know" OCA Luncheon- register here. At the RSA Expo, look for participating members booths with the signs "OCA Sponsor." OCA will have their own booth at RSA as well, #1249.
Passport to Prizes Participant with Anomali
Through Thursday, February 27th | 1:00PM
Pick up your free "passport" from our partner, Anomali's, booth #2033, visit all partners listed and be entered to win some cool prizes! Winners will be announced Thursday, 2/27 at 1PM PT from the Anomali booth.
5. Lastly, come by our booth and meet the team, take in a demo, and get some cool giveaways - perhaps one of our new stickers featuring threat characters - BabyShark, ShadowHammer, and RobinHood.



See you at RSA!